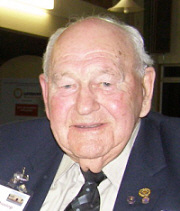 The Jack Dunlop Rotarian of the Year was introduced by President Peter Ball during his term of Presidency 2009 - 2010.
It has two main objectives -
1 - The recognition of PDG Jack Dunlop QSM as charter member and past President and District Governor.
2 - The annual recognition of a member of the club who has made a special contribution to the club whilst at all times respecting the Four Way Test.
Special conditions are applied to the awarding of this recognition and are as follows -
- This award is to be presented annually by the President.
- The award can be held only once by any awardee.
- The award is presented to the active member who, in the sole opinion of the President, has made the most significant contribution to the Rotary Club of Ahuriri in the preceding 12 months whilst following the principles of the Rotary Four Way Test, which are -
1 Is it the truth?
2 Is it fair to all concerned?
3 Will it build goodwill and better friendships?
4 Will it be beneficial to all concerned?
AWARDEES -
2010 - Bryan Fulton
2011 - Ian Hopson
2012 - John Lightfoot
2013 - Roy Clement
2014 - Judith Buckeridge
2015 - Phillip Anderson
2016 - Sue Page
2017 - Lynne Anderson
2018 - Jim Gaudin
2020 - Max Patmoy
2021 - Peter Ball
2022 - Mike Smith

---